Founding Feminists is FMF's daily herstory column.

February 12, 1913: "On to Washington!" and "Votes for Women!"
Those were the enthusiastic cheers of Rosalie Jones and her hardy group of suffrage hikers as they left this morning on a trek that will make their hike from New York City to Albany two months ago seem like a brief stroll in the park.
"General" Jones' "Army of the Hudson," consisting of herself and fifteen other dedicated suffragists, will walk every step of the way from Newark, New Jersey, to Washington, D.C. Once in the nation's capital, the hikers intend to deliver a letter written by officers of the National American Woman Suffrage Association to President-elect Wilson, then take part in N.A.W.S.A.'s massive suffrage parade and pageant to be held on March 3rd, the day before Wilson's inauguration.
The hikers' official sendoff rally occurred in Manhattan, with speeches that were received with great enthusiasm by the mostly-sympathetic crowd. Nearly 200 supporters even agreed to walk part of the way with the "regulars," so when they formed up to begin the actual march in Newark, it was an impressive sight.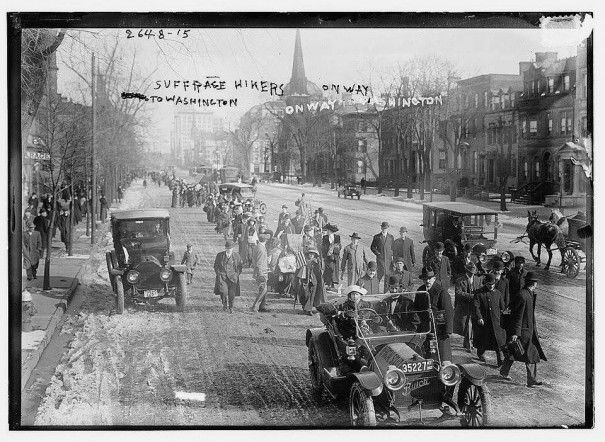 Impassible roads across the meadows made it necessary to start from Newark, and "Colonel" Ida Craft was so distressed at the idea of taking the Hudson Tube Train on what was supposed to be a "hike" that she spent some of her time on board marching back and forth from one end of the train to the other. Her opening and closing of doors irritated the passengers and conductors, but it did succeed in at least partly fulfilling Craft's desire to walk from New York City to Washington, D.C.
When the hikers got to Newark and formed up into ranks, they were approached by a line of mounted police officers. Fortunately, the Lieutenant in charge had a yellow "Votes for Women" pennant fluttering from his saddle, so the hikers knew it would be a friendly greeting and escort.
As the hike kicked off, Olive Schultz was in her assigned position in the "scout auto" ahead of the hikers, followed by Elizabeth "Gypsy" Freeman and her wagon full of suffrage literature. It was pulled by Lausanne, the suffragist horse, bought today in Newark for $59.98 to pull what Freeman calls her "ammunition wagon."
Next in the procession came General Jones and Colonel Craft, followed by a line of women that stretched for an entire block. Banners from the Newark Equal Suffrage League and Essex County Suffrage Society were among those displayed as the colorful procession made its way through town after a successful street rally. Though there were a few incidents of horses being frightened by the marchers, no injuries were reported, and all the horses were safely recaptured after bolting and running a few blocks.
The hikers were cheered and welcomed at many places along today's route, and with temperatures suddenly plunging to near zero in the afternoon, every chance to briefly warm up and get out of the wind was greatly appreciated, as was the opportunity to lighten the packed "ammunition wagon" by distributing flyers to interested people.
The line of marchers going out of Newark was briefly swelled by fifty local suffragists who marched with the troops as far as Elizabeth. The hikers had lunch at the local Elks Club there, escorted by members of the Women's Political Study Club. Finally, long after darkness had fallen, all 16 official marchers arrived at the Hillside Hotel in Metuchen, having covered 16 miles on this first day. Tomorrow, on to Princeton!